The first season of Bigg Boss Tamil version is running successfully on Star Vijay TV. The show is hosted by Ulaga Nayagan Kamal Haasan. Various controversies have already happened in the show. One of the popular contestants of the show Oviya has made an exit from the Bigg Boss house. Within a short period of time, the show has got good ratings and reviews. The audience can also watch every episode of the show on Hotstar website.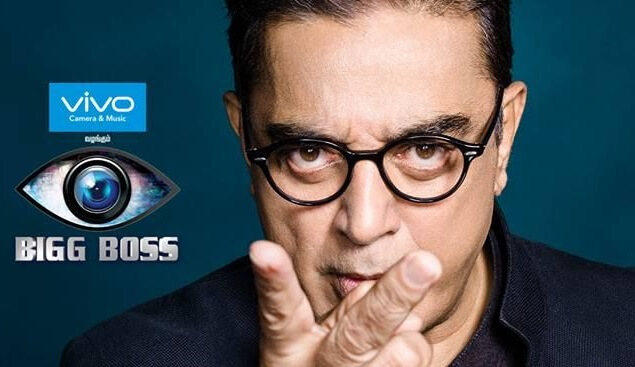 The audience can vote for their favorite contestants of Bigg Boss through online voting or by giving missed calls to the desired numbers. There was a total of 15 contestants in the Bigg Boss house and various contestants have already eliminated and left out from the show. Check out the complete steps for online voting through Google and by giving missed calls below.
Bigg Boss Tamil Season 1 Finalists

Aarav
Ganesh
Harish
Snehan
How to do Bigg Boss Tamil Online Voting using Google Voting System
Step 1: Enter Google and Search for Bigg Boss Vote or Bigg Boss Voting.
Step 2: Now you will be able to see the eviction nominated contestants.
Step 3: Now log in with your Google account.
Step 4: Select your favorite contestant from the list and Vote.
Bigg Boss Tamil Voting Missed Call Numbers
| | |
| --- | --- |
| Vote for Bharani | Missed Call Number – 7210122303 |
| Vote for Ganja Karuppu | Missed Call Number – 7210122305 |
| Vote for Oviya | Missed Call Number – 7210122310 |
| Vote for Juliana | Missed Call Number – 7210122308 |
| Vote for Shree | Missed Call Number – 7210122312 |
| Vote for Anuya Bhagvath | Missed Call Number – 7210122302 |
| Vote for Harathi | Missed Call Number – 7210122307 |
| Vote for Vaiyapuri | Missed Call Number – 7210122314 |
| Vote for Ganesh Venkatraman | Missed Call Number – 7210122304 |
| Vote for Namitha | Missed Call Number – 7210122309 |
| Vote for Snehan | Missed Call Number – 7210122313 |
| Vote for Raiza | Missed Call Number – 7210122311 |
| Vote for Aarav | Missed Call Number – 7210122301 |
| Vote for Gayathri Raguram | Missed Call Number – 7210122306 |
| Vote for Sakthi | Missed Call Number – 7210122315 |
| Vote for Bindu Madhavi | Missed Call Number – 7210122316 |
Bigg Boss Tamil Telecast Days and Time
Weekdays – 9.00 PM
Weekends – 8.30 PM