So the most awaited Jio 4G phone booking starts at 5.30 PM on 24th August 2017. To avoid misuse, Jio will charge Rs 1500 as a security deposit. You will get the deposit amount after 3 years. There are a lot of ways where you can Book Jio Phone. Just make sure you have an active internet connection and a debit card or Net banking facility. This article gives you the full guide to book Jio phone with out any issues. Let's check out more details below.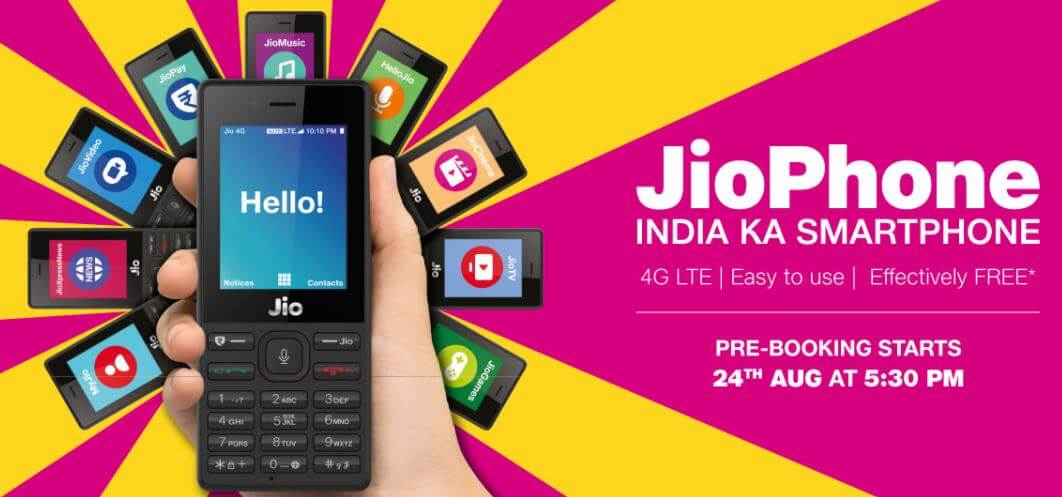 How to book Jio 4G phone Online?
The pre-booking of the much awaited Reliance Jio 4G phone will start from August 24, 2017, at 5.30 PM. Jio 4G phone will be available for a price of RS. 1500 but the customers can now pre-book the phone for just 00. The rest of the amount can be paid during the delivery of the device.
Go to the official website of Jio.com and for mobile users can use MyJio mobile application.
The phone booking starts at 5.30 PM
The pre registration option will be live at 5.30 PM on 24th August 2017
Click on Pre register and enter your Deliver address with your name and contact number.
You need to have UPI, credit card, debit card and net banking for advance registration (Rs 500).
First, you need to pay Rs 500 for Pre registration and remaining Rs 1000 during delivery time.
Note: Full amount of Rs 1500 will be refundable after 3 years.
Features and Specifications of Jio 4G phone
Display: 2.4-inch Display,
Ram: 512MB RAM,
Storage: 4GB inner storage,
Card: Extended SD card bolster,
Camera: 2-megapixel rear camera, VGA front camera,
Wifi: Wi-Fi, GPS, and NFC
Words from Reliance:
"As announced by Reliance Industries CMD (Mukesh Ambani), Jio Phone will be given against payment of a fully-refundable deposit of Rs 1,500. Customers will be able to book Jio Phone for Rs 500 and the balance Rs 1,000 can be paid at the time of delivery in September. The total amount will be refunded after 36 months when the customer returns the phone,"
"Despite anticipation that the phone will hold higher appeal among rural users, retailers from urban centers are aggressively placing orders for the phone. In spite of the floods in Bihar, it is one of the top states where retailers are anticipating high demand for the Jio Phone,"
If you have any confusion in booking the phone, Just comment below.