The popular Zee Tamil reality show Dancing Khilladis has reached the Grand Finale. Dancing Khilladis grand finale will be aired on Saturday, 27th May and 3rd June 2017 at 8.30 PM. The show will telecast as two separate parts. Dancing Khilladies is special dancing reality show in which the contestants will take risky stunts while performing to entertain the audience. All the contestants of Dancing Killadies have excellent dancing talents.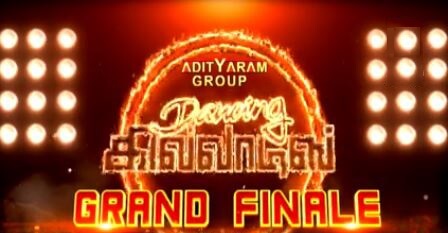 Dancing Khilladies started telecast from 18 February 2017 on every Saturdays at 8.30 PM. Dance Jodi Dance was the previous dancing reality show of Zee Tamil channel which was also very popular. Jeevan and Misha were the winners of Dance Jodi Dance. These kinds of reality shows are very helpful in finding the best dancers and make a turning point in their dancing career. Actress Sneha, Ambika and dancer Sudha Chandran are the judges of Dancing Khilladies. Popular anchor Deepak Dinkar is the host of the show . Deepak was also the host of reality shows Mr & Mrs Khiladies and Dance Jodi Dance.
Various mind blowing performances were presented by finalists of Dancing Killadies. The contestants have put their maximum efforts at the finals to impress the judges and audience. Some of the celebrities have also appeared at the grand finale as special guests. Viewers can watch the complete episodes and the grand finale at ozee.com website. Everyone is now eagerly waiting to see who will win the title of Dancing Khilladis. Check out winners and more details of Dancing Khilladis Grand finale below.
Dancing Khilladis Winners
Title Winner of Dancing Khilladis – Puvi and Preetha
Runner up/Second Place of Dancing Khilladis – Varatha and Ramya
Second Runner up/Third Place of Dancing Khilladis – Karthik and Deachika
Dancing Khilladis Date, Time and Telecast Channel
Date – Saturday, 27 May and 3rd June 2017
Time – 8.30 PM
Telecast Channel – Zee Tamil
Dancing Khilladis Judges
Sneha, Sudha Chandran and Ambika
Host of Dancing Khilladis
Deepak Dinkar