The famous ETV Telugu dancing reality show Dhee Jodi has come to an end with an impressive grand finale. Sanketh and Priyanka are the title winners of Dhee Jodi. The grand finale of Dhee Jodi was aired on 14th and 21st June 2017 on ETV Telugu channel. Indian Film Director SS Rajamouli was the special guest of the finals. This was the 9th season of Dhee Jodi and the show has completed a total of 50 episodes.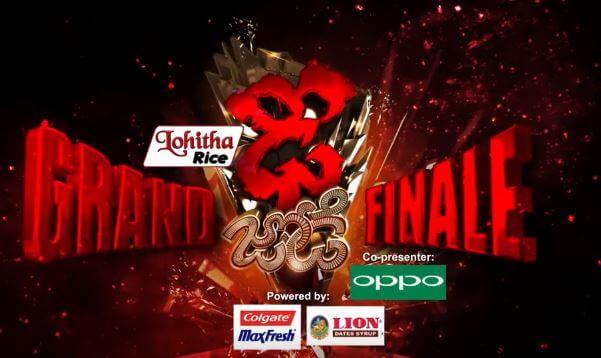 The show was started airing from 29th June 2016 and has now completed a long dancing journey. The episodes were telecast on every Wednesdays at 9.30 PM. Twelve couples were selected to the Dhee Jodi competition and after various rounds and eliminations top 4 have reached the finals. All the four finalists have performed amazing dance moves at the finals. The judges and audience have really enjoyed the the performances of the finalists.
Actress Sadha and Sekhar master are the judges of Dhee Jodi. The show was hosted by famous anchor Pradeep. Sudigali Sudheer and Rashmi are the team leaders of Dhee Jodi. The two team leaders played a very important role in helping the contestants in their dancing journey. Dhee jodi has a huge number of fans and everyone was waiting to see which jodi will lift the title. Dhee dancing show has complete nine successful seasons and the fans are now waiting for the start of next season. The viewers can watch all the dhee jodi episodes from the ETV Telugu official YouTube channel. Check out the winner and more details about the Dhee Jodi grand finale below.
ETV Telugu Dhee Jodi Grand Finale Winner
Title winners of Dhee Jodi – Sanketh and Priyanka
Dhee Jodi Grand Finale Date and Time
Date – Wednesday, 14 June 2017
Time – 9.30 PM
Dhee Jodi Judges and Hosts
Judges – Sadha and Sekhar master
Host – Pradeep
Team Leaders of Dhee Jodi
Sudigali Sudheer and Rashmi