The fifth season of Vijay TV Super Singer Junior is coming to an end with an amazing grand finale. Prithika is the title winner of Super Singer Junior Season 5. Super Singer Junior 5 Grand finale was held on Saturday, June 17 2017 from 6.00 PM onwards. The final show took place at D.B. Jain College, OMR, Chennai. The gates will be open at 6.00 PM. Super Singer Junior Season 5 started airing on Star Vijay TV from 26th November 2016. The episodes were telecast on Saturdays and Sundays 7.00 PM. Viewers are also able to watch any episode of Super singer junior 5 through hotstar.com website.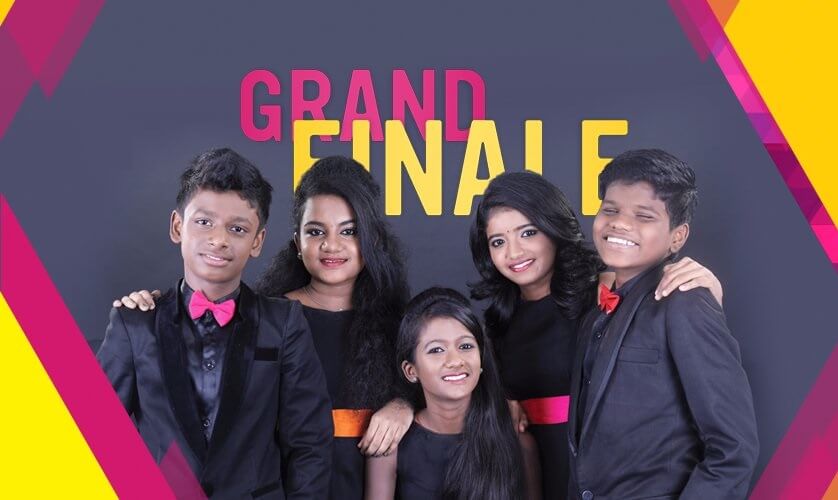 The contestants of Super Singer Junior 5 were selected from audition conducted in various cities. The contestants from age between 6 – 14 were eligible to participate in the show. Thirty contestants were selected from the auditions and after a long musical journey top 5 have selected to the grand finale. The 5 finalists competing in the Super Singer Junior 5 grand finale are Monika, Dhanush, Prithika, Gowri and Bhavin. Evey one is now waiting to see the magical voices of these 5 finalists at the Super Singer Junior (SSJ) finale. The promo videos of the SSJ 5 grand finale is getting good responses from the audience.
The viewers can vote for their favourite super singer junior from the website supersinger.in. A total of 50 votes can be casted per email id in a day. The judges of super singer junior 5 are K.S Chithra, Mano, Malgudi Subha and Ananth Vaidyanathan. The show is hosted by Vijay TV's popular anchors Ma Ka Pa Anand and Bhavana. Check out the title winner, runners up and other details of the SSJ 5 grand finale below.
Super Singer Junior 5 Winners
Title Winner of Super Singer Junior 5 – Prithika
Runner up of Super Singer Junior 5 – Bhavin
Second Runner upof Super Singer Junior 5 – Gowri
Finalists of Super Singer Junior 5
Monika
Dhanush
Prithika
Gowri
Bhavin
Super Singer Junior 5 Grand Finale Date, Time and Venue
Date – Saturday, 17 June 2017
Time – 6.00 PM
Venue – D.B. Jain College, OMR, Chennai
Super Singer Junior 5 Judges and Hosts
Judges – K.S Chithra, Mano, Malgudi Subha and Ananth Vaidyanathan
Hosts – Ma Ka Pa Anand and Bhavana