Kerala Assembly Elections 2016 results: The polling is now over and all eyes on Kerala election results 2016. We provide you live updates of the results on 19th May 2016. Kerala ended up with 75% of polling. Now it's time to get the finals results of Kerala elections.
Exit poll results are out now and the graph showing good signs for LDF. You can find exit poll results from leading news websites below. All parties and candidates are equally confident and waiting for a win in 2016 elections. You can find full list of winning candidates with number of votes here.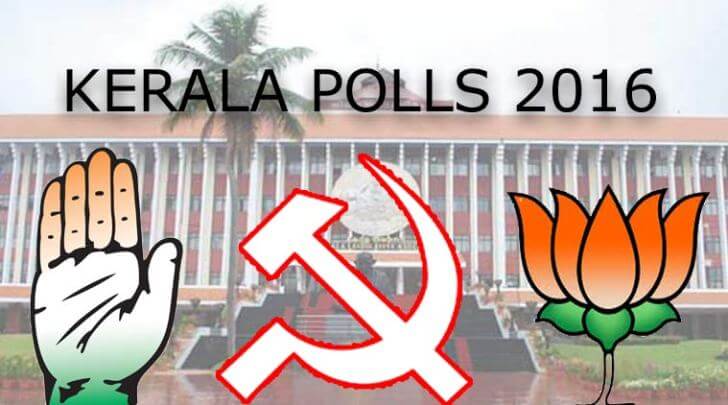 2016 Kerala Election results latest updates
We provide you exclusive updates of Kerala Assembly poll results here. From the latest news, the counting starts at 8 am IST. Now let's have a close look at Exit polls and predictions of Kerala election results 2016.
You can check out result updates here
Kerala Election Exit poll results 2016
The Exit polls are based on different surveys from leading news portals.
Elections.in
UDF+: 45
LDF+: 90
BJP+: 2
Others: 3
CVoter
UDF+: 58
LDF+: 78
BJP+: 2
Others: 2
India Today
UDF+: 43
LDF+: 94
BJP+: 3
Others: 0
News Nation
UDF+: 70
LDF+: 69
BJP+: 1
NDTV
UDF+: 57
LDF+: 79
BJP+: 3
Others: 1
Note: Exit polls are just a rough calculation which will not give an actual result. The exit polls for 2016 showing good signs for LDF. Let's wait for the results. Stay tuned for updates.
Read this: Kerala election candidates 2016 full list
Previous Chief Ministers of Kerala
| | | | | |
| --- | --- | --- | --- | --- |
| S. No. | Chief Minister | From | To | Party Name |
| | | | | |
| --- | --- | --- | --- | --- |
| 1 | Shri Oommen Chandy | May 18, 2011 | Present | INC |
| 2 | Shri V.S. Achuthanandan | May 18, 2006 | May 14, 2011 | CPM |
| 3 | Shri Oommen Chandy | Aug 31, 2004 | May 18, 2006 | INC |
| 4 | Shri A. K. Antony | May 17, 2001 | Aug 29, 2004 | INC |
| 5 | Shri E. K. Nayanar | May 20, 1996 | May 13, 2001 | CPM |
| 6 | Shri A. K. Antony | Mar 22, 1995 | May 9, 1996 | INC |
| 7 | Shri K. Karunakaran | Jun 24, 1991 | Mar 16, 1995 | INC |